To every traveler in Peru, Cusco is the place to go. One, for exploring Machu Pichu and two, coz Cusco comes with its other sights and high altitude hikes. There is however so much more to Cusco than just the history and nature. True, Cusco or Qosco as it is called in the local Quechua language wouldn't be Cusco if not for the Incas. But, they are long gone, and what remains is the town itself. A labyrinth of narrow cobblestone streets, like blood vessels running through a body. One of the streets leads to the balcony of Cusco, San Blas.
It is easy to miss the charm of Cusco, let alone visit San Blas and be mesmerized by it. A lot of tourists at the end of their day hikes are so tired that all they do is use Cusco to sleep. It's a shame as the town has as much in its womb as it has in its surroundings.
The Artisans back in the time (not so long ago) came to Cusco from not only the surrounding villages and Lima but also from other parts of Latin America. Cusco was in the making to become the capital of tourism in South America. And as Cusco was becoming that, San Blas was becoming the place to go to in Cusco.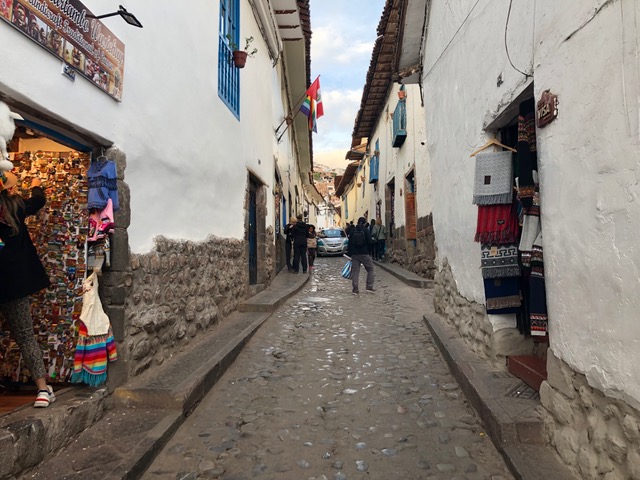 Today San Blas feels very similar to Barranco in Lima. Café's and restaurants adorn every street and unlike the town, they do not feel touristy. The plaza of San Blas is so quiet by the time it is a sunset that you would wonder where is all the buzz that lies just 4 blocks downhill in the central plaza of Cusco. At first, when I climbed the narrow street to San Blas, I did not think much of the climb with shops still asking you to come in and see. But, once in the quarter, suddenly the noises dimmed and the scent of coffee prevailed, coming from the tiny café's that match the narrow streets.
Cafes I like in San Blas.
The Monkey Café for its really unpretentious and homey feel.
The Cafelito for its vibe and also making it a plantation to cup concept.
When the odd car does pass on the cobblestone street, there is just enough space on the sidewalk to step out of its way. This for me also has been a way to look into space, be it a shop or a bar or a café. Otherwise just walking in San Blas is a joy in its own, without even needing to enter a closed place. No one is in a hurry in San Blas but everyone is moving. Even the whitewashed walls feel like they are moving. Moving with the flowers brushing them in the flower pots hanging over the streets. Sometimes in cities like Budapest and here in San Blas, there is as much to look up at as there is on the street level.
Although I went to San Blas for a view, in the end, I feel it gave me a new point of view to look at Cusco. It also made me increase a night in Cusco for the group stay.